10th Tennessee Cavalry
Company I





HISTORY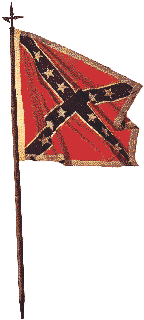 Feb. 25, 1863 The 10th is organized by consolidation of Cox's and Napier's Battalions. Col. Cox had originally been Major of the 2nd (Briffle's) Cav. Battalion, then Major Cox's Battalion. He had been captured at Parker's Crossroads December 25, 1862, and was still a prisoner at the time the regiment was organized, but assumed command upon being exchanged.
The regiment was placed in Forrest's Brigade, of Maj. Gen. Earl Van Dorn's Division. Under the command of Lt. Col Trerzevant.
Captains D. F. Alexander and Thomas L. Fletcher, 1st Co. "I". Formerly "E", Napier's Battalion. Many men from Henry County. Consolidated with "L" to form 2nd Co. "I".
Captain John Huggans, Co. "L". No Muster roll. Enlistments at Palestine, Alabama. (May be where Abram Joined?) Consolidated with 1st Co. "I" to form the 2nd Co. "I".
March 5, 1863 The regiment took part in attack on Thompson Station where Lt. Col. Trerzevent was mortally wounded and Major DeMoss became first Lt. Col. and finally Colonel.
Under Maj. DeMoss the regiment was temporarily attached to Brigadier Gen. F. C. Armstrong's Brigade, and as part of the Brigade,
March 25, 1863 The 10th took part in the capture of Brentwood and suffering 23 casualties.
April 13, 1863 A federal report this date told of the capture of 17 men from the 10th including Capt. Tyler near Fort Donelson, these men were paroled in 1865 at Fort Donelson.
June 10, 1863 Federal reports placed the unit at Okolona, Miss.
July 13, 1863 Federal reports spoke of an engagement with the 10th near Denmark, Tennessee.
July 31, 1863 Colonel Cox was in command of a brigade in Forrest's Division, which included the 10th.
Sept. 19 & 20, 1863 The unit was at Chickamauga. After Chickamauga the unit was transferred to Lt. Gen Longstreet and moved into Eastern Tenn. and remained there until March 1864.
December 23, 1863 Col. Cox resigned.
April 30,1864 the unit was in the brigade commanded by Col. George G. Dibrell, in Brigadier Gen. John H. Kelly's Div. of Gen. Wheeler's Corps of the Army of Tennessee near Dalton Ga.. As part of this unit the 10th took part in the campaign from Dalton to Atlanta in the Spring and early Summer. Lt. Col DeMoss was captured in this campaign. The 10th was engaged at Resaca, New Hope Church, Chattahoochee River, and Peach Tree Creek.
In late August the 10th took part in Gen Wheeler raid into Tenn. to disrupt Shermans Supply lines. First going into East Tenn. then crossing the Cumberland Mtns. into middle Tenn., and recrossing the Tenn. River back into Alabama. During the last stages of the raid the regiment was now commanded by Major John Minor and was furloughed to return home to recruit, with orders to report back to Maj. Gen. Forrest in Northern, Miss.
November 17, 1864 The 10th was reported as being part of the regiment under Col. Biffle in Brigadier Gen. J.R. Chalmers' Div. at Florance, Al.
Nov. and Dec. of 1864 The 10th took part in Gen. Forrest's operations in support on Gen. Hood's invasion on Tenn., and was at the battles of Franklin and Nashville.
February 13, 1865 Brig. Gen. W. H. Jackson was instructed to consolidate all Tenn. troops into six regiments, and to form two brigades. As a result the 10th and 11th was consolidated into the 10th/11th Consolidated.
May 3, 1865 The 10th/11th Consolidated reported 30 officers, 280 men present for duty, aggregate present 355, aggregate present and absent 592, and was paroled at Gainesville, Alabama.


Under the name A. D. Crawford, Abram rec'd a small pension from the state of Alabama for his service
to the Confederacy between 1863-64. Records state that he did not desert and that he served in Tenn., Ala., and Miss.
and suffered "Rheumatism" from his duties.
One of his cancelled checks was found in an antique shop's collection and sent to me.
Dated October 1st, 1896 from the State Treasurer in the amount of $16.35 paid
"out of the appropriation for the relief of maimed or disabled Soldiers and Widows of Confederate Soldiers."



Saint Andrews Cross Battle Flag
NOT A SYMBOL OF HATE!
Was created so that Americans fighting for
the rights of the States could tell themselves apart
from the Americans fighting to preserve the Union.
Click to see our Columbia Bookstore WebSite