Other Groups, Museums & Web Sites of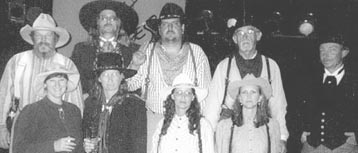 Members of the Olde West Historical Productions
PENNSYLVANIA
(reenactors/performers)
Know of any group in your state that ain't listed? Send me the info!!
Could use updates of sites and contacts as well!
eMail Updates for WebSite and reference it in subject space.

THANKS PARD!
---
Olde West Historical Productions
E-mail: John Powell

Triple D Ranch
eMail: Shifty or Darlin

Wild West Wranglers of PA
E-mail: Charles Lee
Near (but not too close to) Hershey & Harrisburg, PA
---
LOCATIONS
(Museums and Living History sites)
---
Ghost Towns
any places worth mentioning?
Particularly between 1800 to 1880 communities!
---

---

"GIT BACK!"
---
Write to: Black Bart the Legend at


---
&copy 1984-2007 Shadows of the Past, Inc.

Page created by