Other Groups, Museums & Web Sites of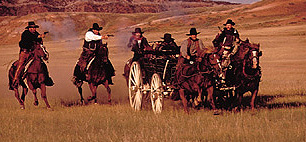 An Outlaw Trails event with RMHA
photographed by J.C. Leacock


WYOMING
(reenactors/performers)
Know of any group in your state that ain't listed? Send me the info!!
Could use updates of sites and contacts as well!
eMail Updates for WebSite and reference it in subject space.

THANKS PARD!
---
---
LOCATIONS
(Museums and Living History sites)
Fort Laramie
Located 23 miles West of Torrington, WY on US 26


Rocky Mountain Horseback Adventures
Write for details
Bill Moss
859 S. 6th Street
Lander, WY 82520
(800) 408-9149
---

---

"GIT BACK!"
---
Write to: Black Bart the Legend at





Page created by


&copy 1984-2008 Shadows of the Past, Inc.
Want to see my Old West Reenactors Web Site? Touch Shadows of the Past, Inc.



Click to see our Columbia Bookstore WebSite


Pages created by